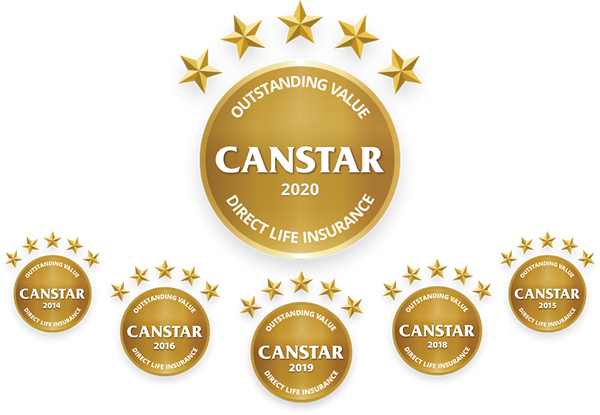 v Quick Quote – It's smart, quick and easy to apply:
Life Insurance Over 50s
Why do I need life insurance in my 50s and 60s?
With the cost of insurance cover increasing as you hit your 50s and 60s you may be tempted to think about cancelling your life insurance, particularly if you've paid off your mortgage and the children have left home.
Insure Me Now is the Canstar Outstanding Award for Direct Life Insurance winner 2014, 2015 & 2016.
Insure Me Now has again been hailed for its Superior Life policy, which is very competitive for non-smokers, men in their early 50s and people in their late 50s. Canstar praises the insurer's lenient approach to exclusions and willingness to cover pre-existing conditions, plus its funeral benefit of up to $10,000 and option to pay for extra total and permanent disability and trauma cover.
Some key benefits of using Insure Me Now are to:
1. Provide financial security for your loved ones with up to $1 million Life Insurance cover.
2. Protect your family from the burden of your final expenses with up to $15,000 Funeral cover.
What makes us stand out from the crowd:
Cover is easy to apply for- Apply in minutes
No complicated forms – No medicals, no blood tests
Competitive Pricing- We have lowered our costs and passed the savings onto you
Security offered with Hannover Life Re – One of the largest re-insurers worldwide
Wide Occupation acceptance list- We accept Professionals, Farming, Trades & Transport
Worldwide coverage- 24 hours a day, 7 days a week
So what's the deal with being over 50 and the importance of Life Cover?
Well as we know as you enter the second half of your life there are new challenges to face and responsibilities to bear with family, children and grandchildren. Whilst the temptation is there to cancel your premium and live out your years free of financial burden do you fully understand the implications of living 'uncovered' past the age of 50?
Here's 4 things to consider:
1. Estate equalisation
A life insurance policy can be an important means of equalising the split of assets amongst family members. Where you have "lumpy" assets or own a small business and only one of your children would be interested in taking over on your death, you can use your life insurance policy to achieve an even split for the remaining children. For example if you have two children and one is to inherit a business or property worth $2M the other child could be the beneficiary of a $2M life insurance policy. The alternative, where the business or asset is left to both children, would require one child to take out a loan of $1M to buy out the other child, with all the expense that this entails.
2. Likelihood of claim
Mortality rates rise rapidly after age 50. Certain cancers and illnesses are more prevalent as we get older. For example the chance of a diagnosis of prostate cancer is 1 in 1000 for a man in his 40s. However the probability of this rises to 12 in 1000 for a man in his 50s, then 45 in 1000 in his 60s and 80 in 1000 in his 70s (statistics from the Prostate Cancer Foundation of Australia).
3. Reducing not cancelling
An alternative to cancelling your life insurance policy is to gradually reduce your cover over time to manage the cost of rising stepped premiums. Each year when you receive your renewal you can send a signed request to the insurer to reduce your cover. Some insurers offer a Premium Freeze option which will automatically reduce your cover each year to keep the premium the same. However it is preferable that each year you weigh your needs against the cost so that if your circumstances change, i.e. you are diagnosed with cancer, you can maintain your cover at its current level.
4. You may not be able to get the same cover again
When you first took out your life insurance cover you were probably young and healthy. But if you wanted to take out life insurance cover today you may not be able to get it on the same terms. You may have changed your occupation to something more risky, your health may have deteriorated, or you may have taken up a thrill-seeking lifestyle which includes jumping out of planes! Any one of these factors could mean that life insurance would not be available, or if it was, the cover could have exclusions or the premium heavily loaded. If this is the case you should hang on to your existing life insurance as long as you can – not only because of the cost/conditions of a new policy, but because you have been assessed as having a higher risk profile than normal.